Product info
Product: DDMC Vector®1.0ml ( Non-viral Transfection reagent ) Cat.#.RS0001
Contents: DDMC Vector ( Polymer-besed ) autoclaved, 1 protocol
Storage conditions: store at 4℃
Price: ¥33,000 JPY ( approximately: USD $320, EUR €275 )


Product: DDMC Vector® 0.5ml ( Non-viral Transfection reagent ) Cat.#.RS0002
Contents: DDMC Vector ( Polymer-besed ) autoclaved, 1 Protocol
Storage conditions: store at 4℃
Price:

Product information
Specification of DDMC Vector with DEAE-Dextran MMA Copolymer


Fast and easy procedure

Stable for autoclaving Sterilizationat at 121C for 15 minutes

Applicable in high-throughput-screening(HTS)

No serum inhibition

Broad cell line range

Best results with siRNA applications

High efficiency by use of low DNA amounts

Broad peak performance

Excellent reproducibility

Low toxicity in comparison with DEAE-dextran

A high DNase protection facility by DNase degradation

Best price/value ratio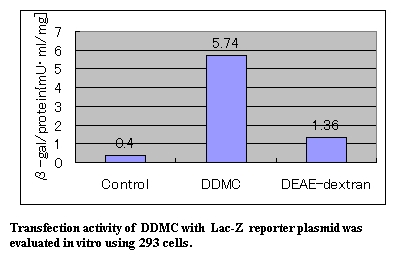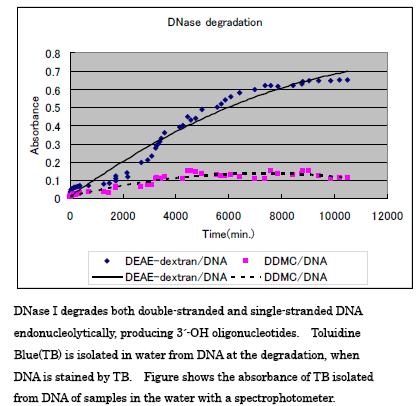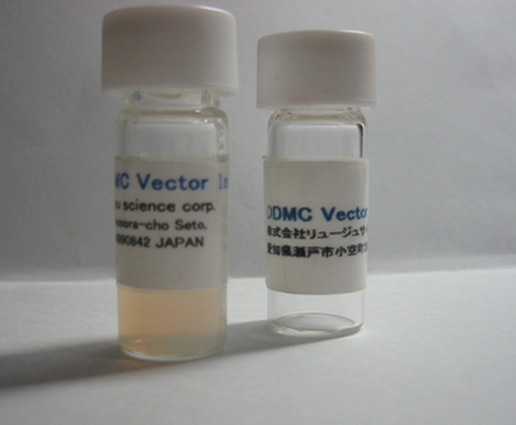 Reference



Toxicity and Transfection Efficiency of New Non-Viral Delivery Systems for Small Non-Coding RNAs:
Amphiphilic Poly(N-Vinylpyrrolidone) and Diethylaminoethyl-Dextran-Methacrylic Acid Methyl Ester Copolymer
Advanced Science, Engineering and Medicine, 9, (6), 426-431(2017)



Dextran Graft Copolymers: Synthesis, Properties and Applications
Polysaccharide Based Graft Copolymers pp 205-269, Springer(2013)



Mechanism of the Introduction of Exogenous Genes into Cultured Cells Using DEAE-Dextran-MMA Graft Copolymer as a Non-Viral Gene Carrier. II. Its Thixotropy Property
J Nanomedic Nanotechnol 2:105(2011)



DEAE-Dextran-MMA Graft Copolymer for Non-viral Delivery of DNA,
Jorgenson, Lene Nielson, Hanne Morck, Ed., Delivery Technologies for Biophar maceuticals,John Wiley & Sons,West Sussex UK(November 2009)



Characteristics of 2-diethylaminoethyl(DEAE)-dextran-MMA graft copolymer as a non-viral gene carrier
Nanomedicine: Nanotechnology, Biology, and Medicine, 3:184- 191,2007.



A NOVEL VECTOR OF 2-DIETHYLAMINOETHYL(DEAE)-DEXTRAN-MMA GRAFT COPOLYMER FOR NO N-VIRAL GENE DELIVERY.
The 13th Annual Meeting of JSGT - 2007,at the International Conference Hall (A ichi Cancer Center) in Nagoya, June 28-30, 2007, Abstr. 074.



Synthesis and characterization of 2-diethyl-aminoethyl-dextran-methyl methacrylate graft copolymer for nonviral gene delivery vector.
J.Appl. polym. Sci., (2005)



Transfection of foreign genes into culture cells using novel DEAE-dextran copolymer as a non-viral gene carrier.
The 55th annual meeting of southern region, the Japan Society of Medical Entomology and Zoology, Miyazaki Prefecture Japan, October 23, 2005, Abstr.15



Attention
This product is for research use only.




HOME
Copyright(C) 2019 Ryujyu science corporation. All rights reserved..